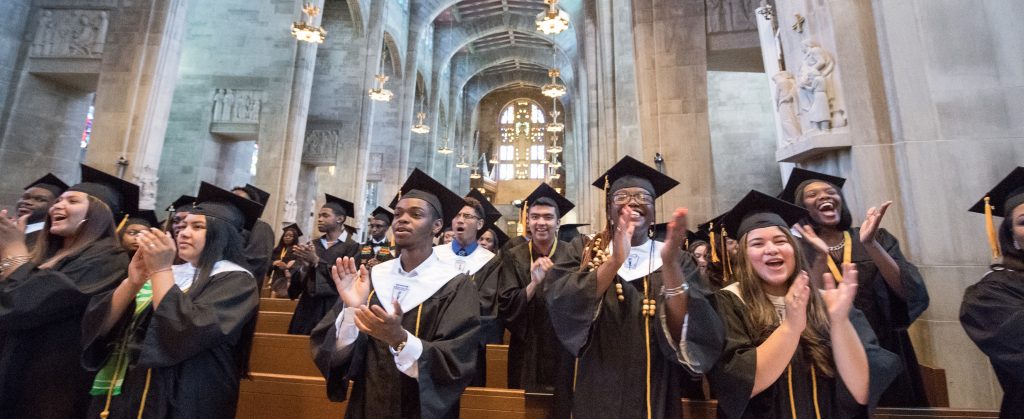 Baltimore, Md., July 6, 2020 – Kurt Schmoke, President of the University of Baltimore and former Mayor of Baltimore, will address Cristo Rey Jesuit High School graduates at the school's July 19 commencement. Cristo Rey Jesuit is a private school that partners with Baltimore City families to provide students with a college preparatory education and unique, four-year corporate work experience. One-hundred percent of the school's graduates have applied and earned acceptance to two and four-year colleges.
In anticipation of his address, Schmoke shared, "I am honored to be invited, and I look forward to speaking to these future leaders at such a crucial moment in their lives."
Schmoke's career is steeped in civic service and education. At present, he serves as the President of the University of Baltimore. Prior to leading UB, Schmoke served as Dean of the Howard University School of Law for nine years and as the university's General Counsel and Interim Provost. Schmoke's tenure as Dean was marked by his focus on increasing bar passage rates, and expanding the clinical law program to emphasize matters of environmental justice, fair housing and civil rights. Schmoke served as Mayor of Baltimore for three terms from 1987 to 1999. During his service as mayor, Schmoke was awarded the National Literacy Award by President George H.W. Bush for his efforts to promote adult literacy, and Baltimore was named as one of six cities by the Clinton Administration to receive the Empowerment Zone designation in 1994. Schmoke earned his undergraduate degree in history from Yale University, then went on to pursue graduate studies on a Rhodes scholarship at Oxford University. Schmoke earned his Juris Doctor degree from Harvard Law School. Prior to his service as Mayor, Schmoke was the State's Attorney for Baltimore City from 1982 to 1987.
The Cristo Rey Jesuit High School graduation ceremony will take place on Sunday, June 19 at 4 p.m. at the Cathedral of Mary Our Queen in Baltimore in a socially distanced ceremony. Guests will include 72 graduates, their families, and their teachers. The school's valedictorian, who has earned the highest grade-point average, and salutatorian, who has earned distinction as the best intern in the school's hallmark corporate work program, will join Schmoke in addressing the Class of 2020. Previous graduation speakers have included Wes Moore, Alicia Wilson and Freeman Hrabowski III, among others.
About Cristo Rey Jesuit High School: Founded in Baltimore in 2007, CRJ is a private, Catholic, co-educational high school, sponsored by the Maryland Province Jesuits, empowering students to succeed in college, work, and life. The school partners with students from economically disadvantaged families of racial, religious, and ethnic diversity in Baltimore City to provide a rigorous education and corporate work experience. Through CRJ's hallmark Corporate Internship Program, students earn a portion of their tuition and, moreover, access the social capital and work experience they will need to succeed in the twenty-first century job market. For more information, visit www.cristoreybalt.org.