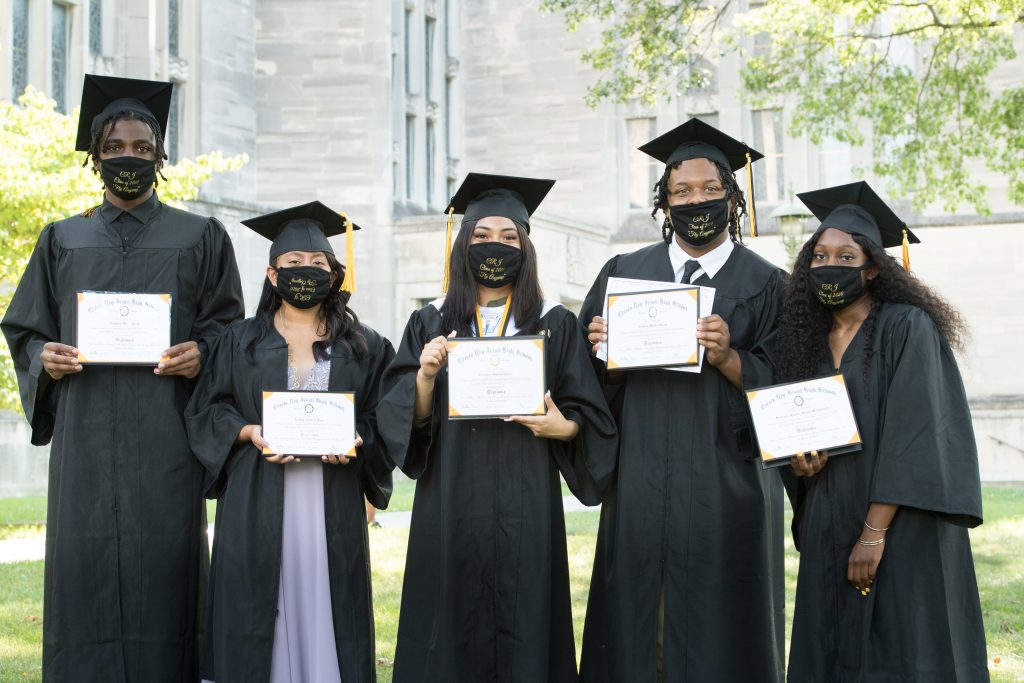 Baltimore, Md. July 19, 2020– Although the 2020 commencement ceremony looked a little bit different than in years past, with graduates and parents wearing masks and temperature checks performed at the door, 72 members of the CRJ senior class have officially earned their high school diplomas. On Sunday, July 19th the Class of 2020 gathered in a socially distant ceremony at the Cathedral of Mary our Queen in Baltimore, MD to celebrate their graduation. Joining them was Kurt Schmoke, President of the University of Baltimore and former Mayor of Baltimore City.
In his commencement address, Mr. Schmoke shared inspiring words with the graduates, including a favorite piece of advice his grandmother shared with him: "If you measure life by a yard, it's hard, but if you measure it by an inch, it's a cinch." Schmoke congratulated the graduates and emphasized that they already serve as role models and as inspiration for other young people in our community.
School Principal Walter Reap also made remarks at the ceremony, including proudly announcing that every member of the Class of 2020 has been accepted into a college or university. He also shared that the members of CRJ's Class of 2020 have collectively received over $5.3 million dollars in merit scholarships and financial aid over the next four years.
Salutatorian, Kendall Lightner '20 and valedictorian, Jaidan Wilson '20, also spoke to their classmates during the ceremony. Kendall spoke about his experience in the school's Corporate Internship Program working at Mercy Medical Center in the endoscopy and urology departments. Jaidan reflected on the growth and talent of each and every member of the graduating class saying "We were planted at Cristo Rey at the right time and we all took something we needed from it."
A link to watch CRJ's virtual graduation ceremony is available. Click the link here to view the recorded video. For more information please feel free to contact development@cristoreybalt.org.
About Cristo Rey Jesuit High School: Founded in Baltimore in 2007, CRJ is a private, Catholic, co-educational high school, sponsored by the Maryland Province Jesuits, empowering students to succeed in college, work, and life. The school partners with students from economically disadvantaged families of racial, religious, and ethnic diversity in Baltimore City to provide a rigorous education and corporate work experience. Through CRJ's hallmark Corporate Internship Program, students earn a portion of their tuition and, moreover, access the social capital and work experience they will need to succeed in the twenty-first century job market. For more information, visit www.cristoreybalt.org.