Baltimore, Md., September 1, 2020 – As we embark on the 2020-2021 school year, Cristo Rey Jesuit is embracing an adapted approach to education that allows students and teachers to connect, learn, and work virtually. In response to COVID-19, the CRJ program will be fully virtual through at least October 2020. In addition to lesson planning and developing curriculum, faculty have planned synchronous and asynchronous coursework and reimagined their classes to take place in virtual spaces. Each of the school's 350 students have been issued a laptop and families who need it have also been provided with a wireless hotspot in order to facilitate connectivity to the classroom from home.
Despite these changes, CRJ is moving forward with a new, Allied Health dual-enrollment program that will provide relevant and marketable coursework to its students. Twelve Cristo Rey seniors will pilot this new program and will have the opportunity to earn college credit from the Community College of Baltimore County (CCBC) within their senior year academic schedule.
Ever since I heard about this program, I was interested in and saw this program as a very good opportunity for my future career. I am hoping that in this program, I learn more about different topics of medicine and other health professions that will help me in the future. I know that this program is just another step towards my future career and I am excited about this opportunity."

– Michelle, Cristo Rey Jesuit class of 2021
Each of the 12 students will take fall (Health Careers) and spring (Medical Terminology) courses in the Allied Health program, earning credits toward healthcare certifications while also gaining exposure to the college class setting.
When I heard that CRJ was going to offer classes under the Dual Enrollment program, I could not contain my excitement for students to take advantage of such an opportunity. Students taking classes under this program get an early idea of how college classes are organized. In our case, the best part is that our own science teacher, Ms. Butler is going to be with students during class time."

-Rosalies Toledo, Cristo Rey Jesuit Dual Enrollment Coordinator

To start the year, the fall Health Careers course will be administered in a virtual format with a CCBC professor teaching the course in conjunction with CRJ science teacher, Tiffany Butler and CRJ Dual Enrollment Coordinator, Rosalies Toledo.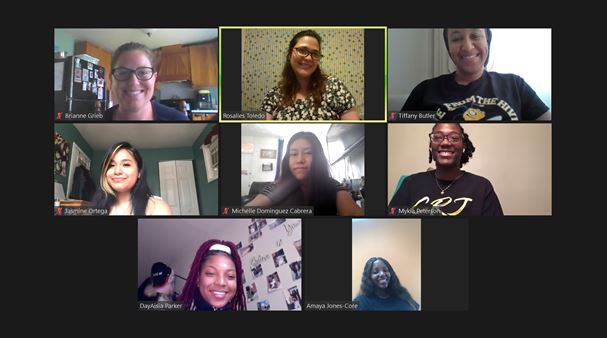 Teachers Rosalies Toledo (top row, second from left), and Tiffany Butler (top row, third from left), video conference with students participating in the 2020-21 Allied Health dual enrollment program.
This Allied Health dual enrollment offering will complement CRJ's Corporate Internship Program, which differentiates students' high school experience by matching them with professional work placements at a variety of area businesses and nonprofits. Healthcare companies like Mercy Medical Center, Johns Hopkins Health System, University of Maryland Medical System, GBMC, Medstar, Lifebridge, Mt. Washington Pediatric Hospital and Total Health Care partner with CRJ through this program to give students real-world work experience while also empowering them to earn a portion of their school tuition. The CIP, like the academic program, will be fully virtual during the first quarter of the 2020-21 school year.

For more information about the Allied Health Program, you can reach Rosalies Toledo at rtoledo@cristoreybalt.org.. For more about the Corporate Internship Program, visit https://www.cristoreybalt.org/corporate-internship-program/ or reach out to John Busse, Director, at jbusse@cristoreybalt.org.