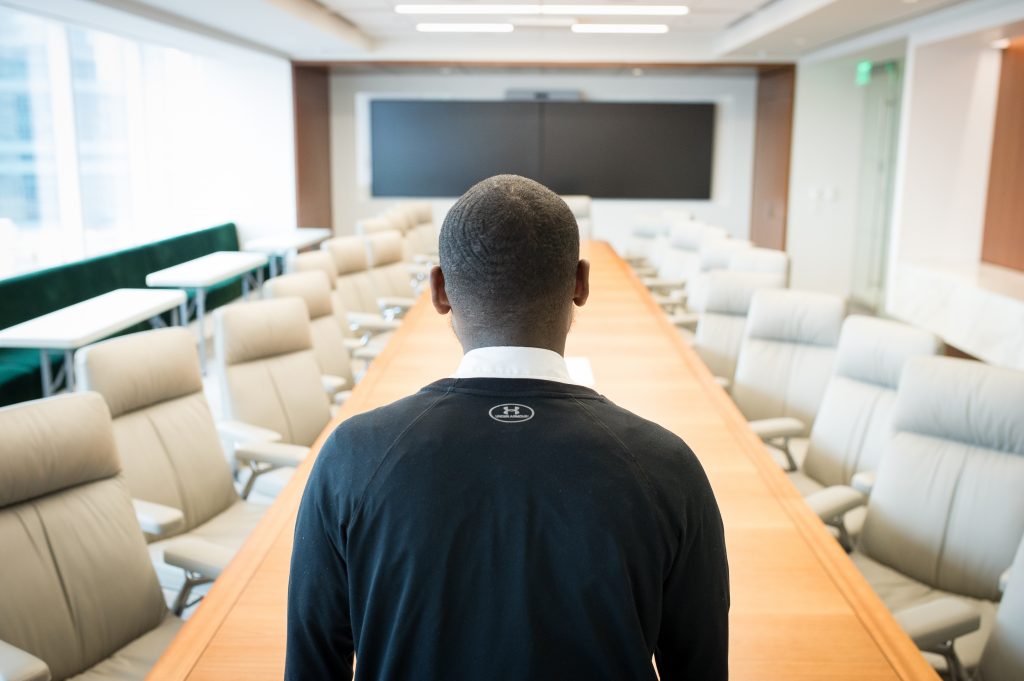 Se hace el camino por caminar. We make the Road by Walking it. So goes the Spanish saying.
Today at Cristo Rey, we could say, "We make an online school by doing it!
All summer long, President Bill Heiser and the team at Cristo Rey have pondered, poised and pivoted to online learning for our student scholars.
It all began back in March 2020 when we had to respond immediately to the Covid-19 shutdown. Principal Walter Reap and Dean of Students Derrick Lifesy risked their own well-being, getting books and computers to kids in their homes. Theology teacher Elijah Miles '13 led efforts to get food to people. Teachers figured out overnight how to provide instruction, support and the ever-present Jesuit Cura Personalis ("care of the person"), to kids and families caught in the unprecedented time of upheaval and uncertainty.
Over the summer, as it became clear that the new normal was not going to be so normal, Principal Reap led the transition to online learning with everything from technological tools to a whole new system of synchronous and asynchronous learning schedules.
Determining how to provide a rigorous learning experience for students in a virtual environment revolved around identifying the appropriate tech tools (chrome books, hot spots, etc.), the appropriate technology programming (Google Classroom, Zoom, ALEKs, Khan Academy, Nearpod, etc.), and the level of training and support faculty needs to implement a college-preparatory curriculum. The biggest challenge has been inducting the newest members of the school community in a meaningful way and distributing resources students needed for the start of school. I have been amazed at our faculty and staff's attention to the needs of students. The challenges with virtual learning continue to be building relationships and assessing student engagement."

Principal, Walter Reap
Two things had to happen over the summer to plan for virtual learning for Cristo Rey Jesuit High School to assure a successful deployment. Prayer and careful planning." The school procured brand new devices from Dell for more than half of the student body and a lot of work had to be done to make sure those devices were ready and compatible with Cristo Rey networks."

Director of Technology, Al Michael
Zoom should be given some kind of award for all it's made possible during these days. And Cristo Rey's community of donors deserve kudos for fully funding the purchase of chromebooks for all 360 Cristo Rey students by the first day of school.
John Busse and the Corporate Internship Program have done heroic labors in transforming a work program not only to online presence and connections, but also to dealing directly with the fallout of the economic changes and pressures of these months.
Everyone at Cristo Rey is putting one keystroke after another as we meet the challenge and continue to cherish our students. School Counselor Zach Webster provides counseling and comfort to students via Zoom. Teachers plot and plan to provide upbeat lessons for teens stuck at home. And our more than 100 first year students are getting going the Cristo Rey Way!
Hundreds joined for the Prayer to the Holy Spirit on Friday September 4th. God is with us as we pave this new road toward educational excellence in the challenging Covid crisis.
Keep Safe. Keep Sane. Keep Smiling.
Fr. Rick Malloy, S.J.