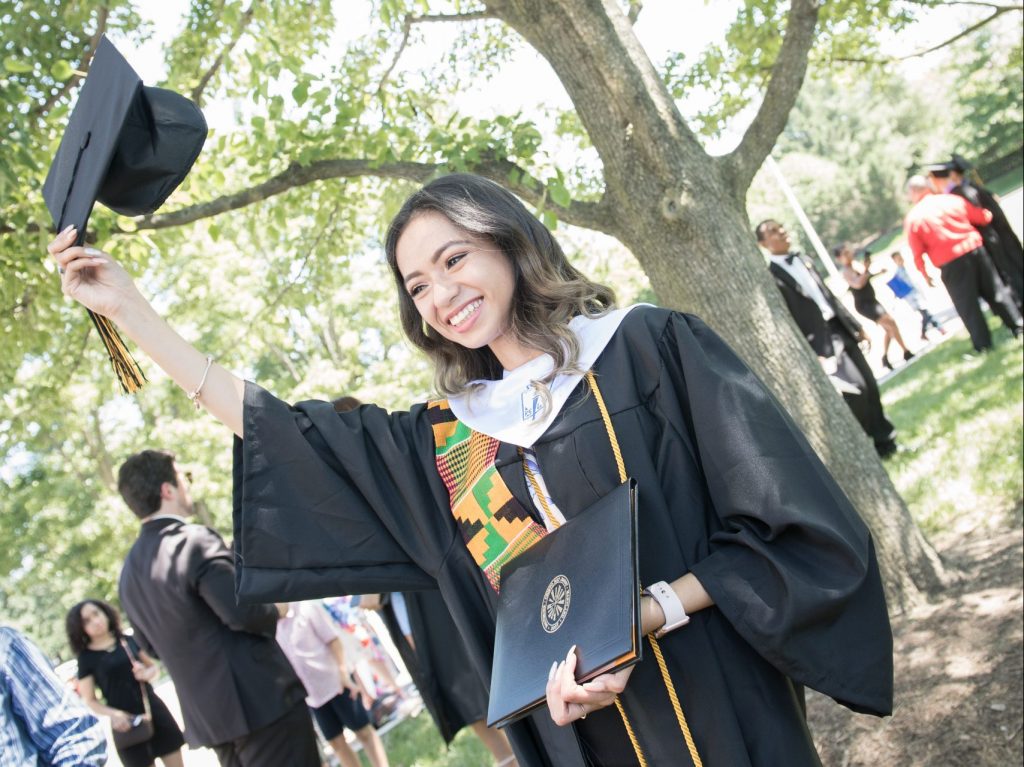 I'm striving for the American Dream."

Karla garcia aguirre, Class of 2018
We got on the phone with Karla Garcia Aguirre '18 to talk about her high school experience, pursuit of higher education, career aspirations, and life in general since her graduation from Cristo Rey Jesuit. Keep reading to learn more about what's keeping her motivated and bringing her joy.
---
What pathway did you pursue after your graduation? How's it going so far?
KG: I'm currently studying nursing through an Associates to Bachelors program offered through the Community College of Baltimore County (CCBC) and Towson University. Right now [with COVID-19], I'm feeling overwhelmed by virtual work! I'm just trying to stay positive and hoping for better times.
What are your long term career goals and aspirations?
KG: I'm hoping to become a NICU or a Labor & Delivery Nurse. I would love to be in that job setting because it's always changing and every day is different.
How did your experience at CRJ affect you and impact your life?
KG: One aspect of the CRJ experience that has impacted my life is the Corporate Internship Program. My experience in the program gave me background knowledge and understanding of real-life professional work environments. During my first two years, I worked the front desk at Big Brothers Big Sisters of the Greater Chesapeake where I answered phones and performed administrative duties, which taught me a lot about customer service.
In my Junior and Senior years I worked at Mercy Medical Center, where I was able to see patient care firsthand. Through the CIP, I also had the opportunity to participate in a summer program working in the Labor and Delivery Unit at Johns Hopkins Hospital. The nurses' responsibilities and job duties amazed me. These experiences helped me realize I wanted to become a nurse myself.
I would also say that I'm really well prepared for what I'm studying now because of the education I received at CRJ. For example, something that really helped me succeed in ninth grade was that we stayed after school for an hour to give us time to work on our assignments. This helped instill a routine and work ethic in me — I still always do my work as soon as I get home!
How do you think you've grown since your time at CRJ?
KG: I've taken on more responsibility for my coursework. In college, you have to hold yourself accountable. I try to be responsible for myself and not procrastinate.
What gives you motivation to succeed?
KG: My mom and my grandma. They came to a new country to give me everything I needed to become who I'm becoming. I know I have to work hard and do everything in my power to succeed so I can give back to them and make them proud.
What does your future hold?
KG: In the future, hopefully I'm working in the nursing field, I'm financially stable, and I'm able to buy my mom a house. Basically, I'm striving for the American Dream.
What brought you joy this week?
KG: Passing my vital signs test, which was my first test of the year!
---
Congratulations to you, Karla, on all your success and thank you for taking time to share your story with us! Karla has interned with the Development Office at Cristo Rey Jesuit starting in 2019.
If you're interested in learning more about the Corporate Internship Program at Cristo Rey Jesuit, click here.
If you're a CRJ alumnus interested in sharing your story, click here.