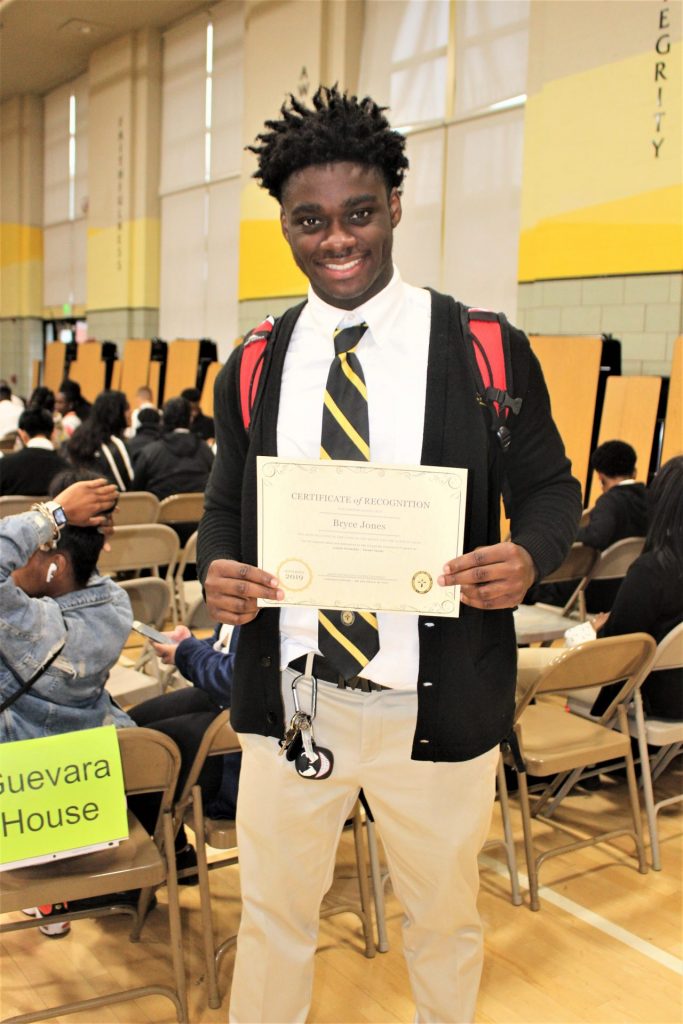 ---
This article originally appeared in print in our 2019-20 Annual Report.
---
For Bryce Jones, his internship placement at the Loyola University Maryland's Career Center wasn't what he expected. "At first, it was pretty rough," Bryce '20 shared, adding, "I wasn't used to working in an office environment." Then just a sophomore at Cristo Rey Jesuit, Bryce struggled to adjust to the expectations of his new workplace.
Flash forward two years to the fall of 2019 and the once apprehensive Bryce stood beaming in front of his peers at CRJ's schoolwide Awards and Recognition Ceremony. He was accepting an Employee of the Month Award Certificate for his exemplary work at his internship with the Career Center. His mom, who sat through each report card conference with patience and understanding of the corporate learning process, looked on from her seat with pride.
Bryce credits his supervisor at Loyola, Elaine Edelstein, with helping him to turn his internship around. He describes a pivotal moment: "One day, Ms. Elaine took me out to lunch and we had a talk about my experience. She told me she wanted the best for me and to see me shine, and that I needed to keep trying. It was tough love a little! I sat there thinking about that, and by the next day, I was a new man."
For Elaine, who's been involved with the Corporate Internship Program since 2014, this kind of encouragement is what it's all about. When asked to name her favorite aspect of the CIP, she answered, "the informal mentoring that occurs as we get to know one another and begin to build trust working together." She explained, "It's important to demonstrate care and concern to help students believe and understand we are committed to their success." Luckily, when Bryce was feeling shy and overwhelmed by the unfamiliar environment, Elaine was paying attention.
"We all have a story to tell!," Elaine added, "If we meet people where they are, listen and demonstrate we care about them, a good relationship will develop built on trust and respect." This is a lesson that Bryce has taken to heart, and he reflects on his time with the Career Center as essential to helping him develop the skills he'll need to succeed in college and his future career.
According to Bryce and Elaine, a strong work ethic and a positive attitude with yourself and others can contribute to success "I would tell the next generation of CRJ Hornets to try to love your job — no matter what it is — because it's providing great work experience," Bryce advised. Elaine, echoing Bryce, shared young people should aim to "take advantage of every opportunity and experience to learn and grow…Always remember, all work is noble!"