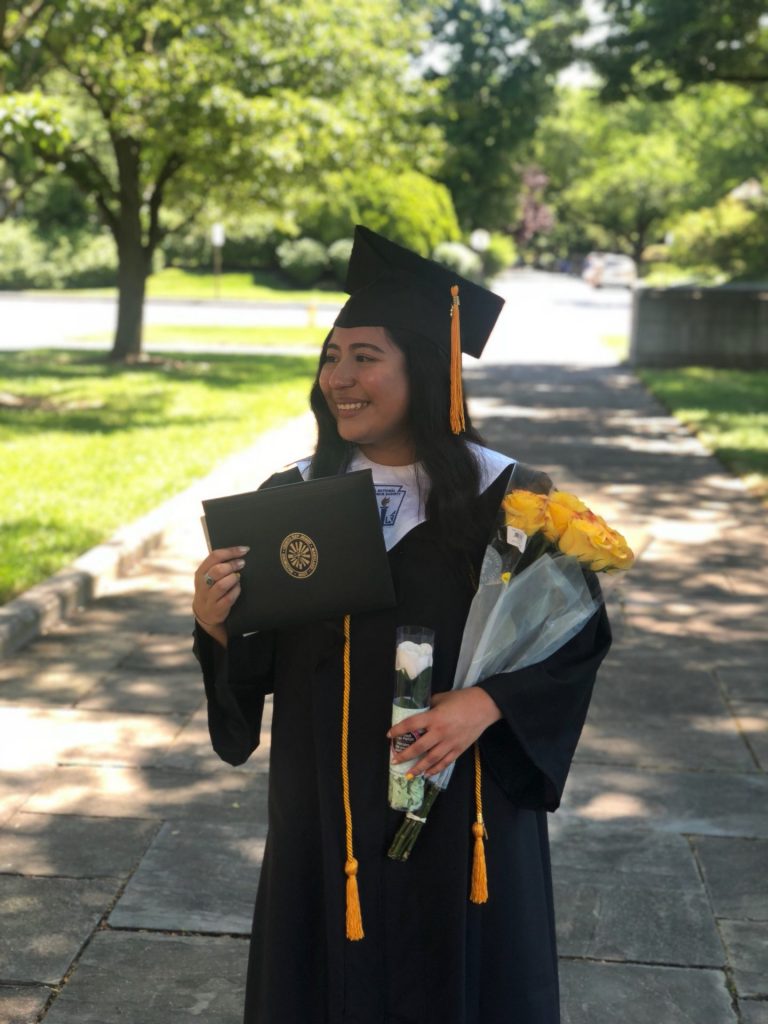 I've also learned how to help those who do not have a voice: Be the voice for those who don't have a voice."

ESTHEFANI GARCIA, Class of 2018
In the second in our series of Community Interviews, Esthefani Garcia '18 tells us about the importance of a strong support system and uplifting those in need. Read on for more about how Esthefani is combining her passions for mental health and social equity as an aspiring Social Worker or Counselor.
---
What did you pursue after your graduation? How's it going so far?
EG: I'm currently a junior at Goucher College pursuing a Bachelors of Arts degree in Psychology and Spanish. When I was doing in-person classes I felt like there was more of a structure, but now since we are living in more difficult times due to COVID-19, online school has been challenging me mentally and academically because it's been something new to adapt to.
What are your long term career goals and aspirations?
EG: After I graduate, I hope to pursue a graduate degree in either social work or counseling.
How did your experience at CRJ affect you and impact your life?
EG: CRJ has always been a good support system, especially the teachers that care about their students. I have had this same support in Goucher because the teachers are also supportive and are there for the students. The school work at CRJ prepared me to use my critical thinking in discussions and long essays, which helped my transition from CRJ to Goucher — giving me motivation to succeed in what [I] love, which set my mentality to help the community.
What is your favorite memory from your time at CRJ?
EG: My favorite memory from CRJ is when we would have our Rewards & Recognition ceremonies. This helped me understand that CRJ was going to be there every step of the way. The rewards were very meaningful because, as a first-generation student, you appreciate every little thing that is awarded to you. It shows your work is being rewarded and you get to share it with your loved ones and community.
How do you think you've grown since your time at CRJ?
EG: I think I have become even more open-minded about life situations that affect our communities. I've also learned how to help those who do no have a voice: Be the voice for those who don't have a voice.
If you could say one thing to your teachers, classmates, or supervisors — what would it be?
EG: For students: Don't give up, CRJ may seem strict but it's for your benefit. If you challenge yourself, doors will open for you and CRJ will give you that opportunity.
Teachers: I would like to say thank you for always pushing me and for always being you.
Supervisors: I would like to say thank you for giving me the opportunity to work in four different fields, which helped me gain knowledge about different work environments.
What gives you motivation to succeed?
EG: My mother. I know that she has done everything in her power to give me a better life in the United States. This helps me motivate myself to want to give back to her. She has pushed me to always put my education first in order to be someone in life. This will help me give back to her, my community, and the ones in need.
What does your future hold?
EG: I hope to achieve the degrees that I want to pursue. I also hope to work in a field that I love.
What brought you joy this week?
EG: Finishing my semester strong.
---
Thank you, Esthefani, for taking the time to share your story so far with us. We wish you the best with all your noble aspirations!
To find more Cristo Rey Jesuit student and alumni voices, click here.
If you're a CRJ student or alumnus interested in participating in a Community Interview, or know someone who is, click here.