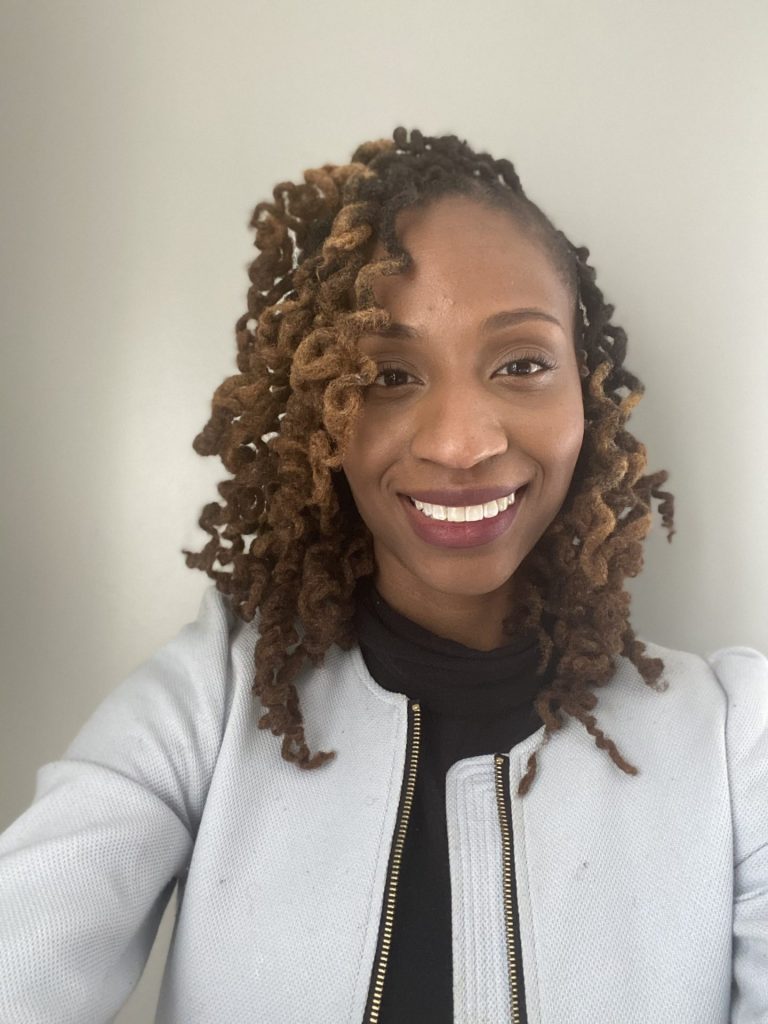 Cristo Rey is life-changing and life-giving."

Ms. Millie Harris, Director of College counseling
In our latest Community Interview, we spoke with Director of College Counseling, Ms. Millie Harris, about what the mission means to her, how Jesuit values inform her daily life, and her CRJ journey so far. Keep reading to discover more about what's inspiring and motivating Ms. Harris during her first year at CRJ.
---
What position or title do you hold at CRJ?
MH: I am the Director of College Counseling at Cristo Rey. I like to call myself the Proud Director of College Counseling because I am so proud of my team and students. I call our dynamic College Counseling team the Fantastic Four, because we are fantastic and I stand by that.
What brought you to CRJ?
MH: I've had my eye on Cristo Rey for a while now. I belong to Huber Memorial Church, and I have a mentor there whose two children both attended Cristo Rey, so I've been hearing about the school for years from them and others at my church. Seeing their trajectory and how they spoke so highly of Cristo Rey made me realize that the school was very supportive, like a family.
I was interested in the school for a few years and was wondering how I might be able to fit in at Cristo Rey as I navigated my own professional journey. I had been working in the college counseling field for about 5 years, and when the opportunity came about and I saw the job opening for the Director of College Counseling position, I knew that this was the plan for me!
How has your first year been for you? What are some of the challenges so far? What are some of the joys?
MH: My first year at Cristo Rey has of course been interesting because of COVID. I hate to reference it, but it's our reality! I wish it was different because I'm big on building relationships with my students and with faculty members, but I do still feel a sense of togetherness and community. It has been a blessing to feel seen and valued this past year because for people working in a college counseling position, it's easy for us to be invisible. I love Fr. Rick's daily messages to the school community as well as Dr. Heiser's outreach to the faculty and staff. It shows me that Cristo Rey is not just a business or a job, but that we're operating as a family.
I would say the joy and challenge has been one in the same: connecting with the students. It's a joy when you get through to a student — it's like fireworks! Recently, a student really came through when I helped them with their project. They totally got my recommendations, and their hard work showed. They shared that I had helped them tell their story and I was so proud they took my advice. For some other students, it's hard to get feedback and confirmation online and I think it's also difficult sometimes because I'm a newbie! I'm a problem solver by nature though, so I'm always thinking: "How can I get through to this student?"
What lessons have you learned over the course of your career?
MH: I've learned how important it is to over communicate with everything and everyone. With students, it's their journey and we want them to be invested, but they are minors and need support. That's why I like to over communicate to parents, administrators, students, and my colleagues to make sure everyone is in the loop. I'm learning that at Cristo Rey the parents are really involved with their children's education, which I love and appreciate. It's good to know that parents are on your side.
What does the CRJ mission mean to you personally?
MH: It really comes down to opportunity. I know the school prepares students for college, career, and beyond, which means a lot to me. I was a student in Baltimore City and opportunity is why I'm where I am today and why doors were opened for me. I know the odds for minority families, and I know how the options that Cristo Rey provides can be life-changing. It's easy to shut down and give up with these odds, but when a student looks at a place like Cristo Rey, they realize, "that doesn't have to be my story." Cristo Rey is life-changing and life-giving.
How does belonging to a Jesuit school inform your daily work and life?
MH: The Jesuit values speak to me personally as far as serving others and doing for others. That's part of who I am as a Christian — I believe in being kind and serving others when you can. It's a constant reminder of service. I know it's a job and I receive a paycheck, but outside of that, it's really serving these families, which is humbling and keeps me going. It's an honor to do this work.
The community is so important! It helps me refocus and recenter myself with a proper mindset, and it helps remind me that I owe the families and students I'm serving my best as a leader. I look at it as an investment — even if I'm ever feeling unmotivated, I'm pushing through this state of feeling to give them my best. The work will pay off.
What do you think is the importance of CRJ to the greater Baltimore community?
MH: Hope, joy, and opportunity. Cristo Rey is offering an experience that you won't get at other schools. You are welcomed into the Jesuit community, you get college ready, and you get career ready through the Corporate Internship Program. There is a sense of hope to change your trajectory and outlook on life.
Who is your role model or inspiration? Why?
MH: My grandmother. I was named after her. She's 82 and fiery! She was a Black Panther, she's from New York, and she doesn't take crap. She's nice, but she has her boundaries. She's had a very dynamic life and I love hearing about her experiences.
What brought you joy this week?
MH: My 2-year old daughter, Melody, singing "Happy Birthday" to me every day!
Is there anything else you want to share – with students? With colleagues? With someone learning about Cristo Rey for the first time?
MH: I'm always saying this to students and it sounds so cliche, but I mean it: don't give up! I'm sure in a couple years, we'll all be able to look back on this time and laugh. Hold on to your reason and that feeling because it will all make sense one day. Always see the silver lining.
---
We are blessed to have you as a member of the Cristo Rey Jesuit Community, Ms. Harris! Thank you for all you do for our students, families, and beyond.
To find more stories from the Cristo Rey Jesuit community, click here.
If you're a CRJ community member interested in participating in an interview, or know someone who is, click here.