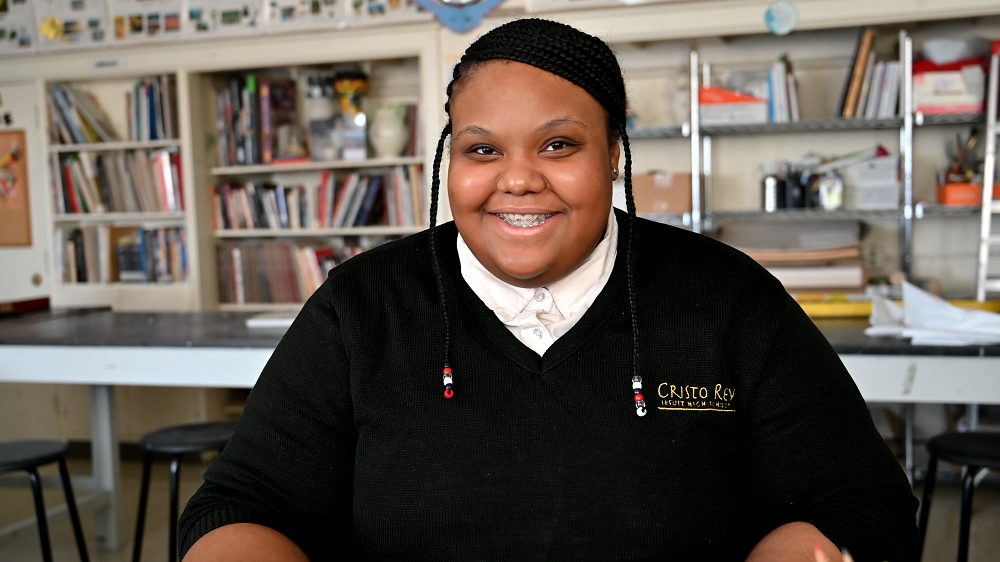 Below are the uplifting words shared by Serenity '23 with her fellow classmates at their milestone Sophomore Pin Ceremony on Monday, April 12, 2021. Read on to hear firsthand how Serenity has grappled with the difficulties of the past year and how she learned to embrace change as a necessity to growth.
---
Can you believe we're almost Juniors? In about 2 more months we'll officially be upperclassmen. I know it may seem weird, at least to me because it seemed to have been lived in a flash, but it surely happened. We came in as freshmen not really knowing what to expect, but we adjusted to the new school rather quickly. I remember coming late June for the first time, not knowing what was going on around me. So many new people, I didn't know what to do or how to speak to others. I wouldn't have imagined myself speaking in front of you all today.
Who knew that after that day of competition, and walking around for a scavenger hunt, that we were going to face a pandemic. Staying home, wearing masks, and everything shutting down due to something we knew little about. We left school in March, thinking we'd be back in a week. We weren't expecting to spend our whole sophomore year at home and virtually learning. Facing many struggles in the beginning, like wifi issues, lack of communication, not knowing our schedules, or time management issues, but we made it work. We acquired the skill to adapt, to be able to adjust under any circumstances. I like to think that when things change, neither the strongest or the smartest is what's important, it's those who are able and willing to adapt. To digest what's going on around them and make the best of the situation.
Because change is inevitable, but change is needed for growth. You shouldn't look at change as a negative thing, something that's an inconvenience in your life, but rather how you will grow from that experience. How did you take being home for example? Did you sit in the unknown and play games, lay in bed and take things for what it was? Or did you get up and be productive, learn new things and create new hobbies, do research about what you want to be in the future, reach goals you've never had the time to obtain. What did you do with your time? Did you learn anything?
Well what I learned was, not to take small things for granted. I miss playing multiple games of Uno with my friends at lunch, and playing hilarious volleyball games in the gym. I miss going to choir after school and being able to sing with my friends. I miss stepping out into the hot weather and going to Ritas after a long day of learning. Additionally during this long time of being kept in the house, I've learned more about myself than anything. I learned that when opportunities came my way I often said no. I never knew why that was. Maybe I was scared I wouldn't stand out, or saying no was way easier than putting myself out there. But I knew that I wanted to change that part about myself. Suddenly I was granted the opportunity I needed. I had the chance to participate in the oratory competition, and I made sure to include myself. I was not going to let my efforts be left in vain. And to my surprise I won! I honestly had no idea I would win, after hearing my peers' responses, but little did I know I had what it took to reach the judges. Me… myself could inspire people with my words. After that I knew I wanted to leave my comfort zone and push myself. Pass being just a girl who earns great grades, pass a girl that follows in others footsteps, pass someone who just is there. I want to be at one with myself, my elevated self that only God knows for now until i can be that person someday. Everyday is a day to make something great, to make something happen, to change your struggle. You can have millions of people behind you, supporting you, cheering you on but when it comes down to it, only you can be the only who changes what you want. So say yes to being pushed out of your comfort zone. Say yes to knowing what you want and doing the right things to obtain it. Say yes to remembering who you are and elevating yourself.
In closing, I want you to hold these pins near and dear in your heart because not only do they symbolize our halfway mark, they convey our ability to adapt and prosper. Not only do they remind us of each other but they give us strength knowing that we can attack anything that comes our way. I want to end this saying, I am very proud of every one of you. You all look great and I can't wait to see how we attack these next few years together with perseverance and unity.
---