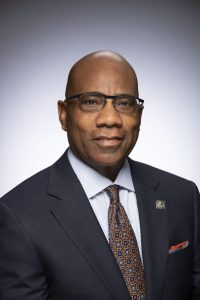 Baltimore, Md., May 10, 2021 – Dr. David Wilson, President of Morgan State University, Maryland's Preeminent Public Urban Research University, will address the Cristo Rey Jesuit High School graduating class of 2021 at the school's June 6 commencement. Cristo Rey Jesuit is a private school that partners with Baltimore City families to provide students with a college preparatory education and unique, four-year corporate work experience.
In anticipation of his address, Wilson shared, "It is a great honor to serve as Cristo Rey's commencement keynote during this defining moment in our nation's history and I look forward to celebrating this milestone moment with the Class of 2021 as they ascend to new heights in their academic and career pursuits. Both Morgan and Cristo Rey share similar origins…Morgan formed on the pillars of ministry and education as the Centenary Biblical Institute, and Cristo Rey founded on the seminal Jesuit teachings rooted in the wholeness of education. Together, we are two institutions deeply committed to the educational advancement and commitment to the communities we serve."
Dr. Wilson's career in higher education includes an extensive record of accomplishments, with more than 30 years of experience, the last 11 as Morgan State University's President. Wilson holds four academic degrees: a B.S. in political science and an M.S in education from Tuskegee University; and Ed.M. in educational planning and administration and an Ed.D. in administration, planning and social policy from Harvard University. Prior to arriving at Morgan, Dr. Wilson held leadership roles at the University of Wisconsin, Auburn University and at Rutgers University. During his tenure at Morgan State, Dr. Wilson's vision and leadership has advanced the institution by: elevating Morgan to a research classification of R2, a status reserved for doctoral universities with high research activity; achieving a 17% alumni participation giving rate, a rate higher than most private HBCUs and higher than many public regional universities nationwide; reaching the highest graduation rate in 10 years; completing a historic $250M Anniversary Campaign (the largest in Morgan's history); procuring $35M in research grant awards from the NIH; expanding the academic programs to include 11 new degree programs; and constructing multiple state-of-the-art facilities. Dr. Wilson's educational philosophy is to put the students' experiences first. As a leader, he is a consensus builder and a strong believer in transparency of process. His goal is to make Morgan a leader in producing the next wave of innovators in the U.S.
Cristo Rey Jesuit High School President Dr. Bill Heiser shared, "We are excited and honored that Dr. Wilson will be this year's commencement speaker. Morgan State University is a valued partner for Cristo Rey and we are inspired by Dr. Wilson's visionary leadership."
The Cristo Rey Jesuit High School graduation ceremony will take place on Sunday, June 6 at 2 p.m. at the Cathedral of Mary Our Queen in Baltimore. Guests will include 69 graduates, their families, and their teachers. The school's valedictorian, who has earned the highest grade-point average, and salutatorian, who has earned distinction as the best intern in the school's hallmark corporate work program, will join Wilson in addressing the Class of 2021. Previous graduation speakers have included Wes Moore, Alicia Wilson, Kurt Schmoke and Freeman Hrabowski III, among others.