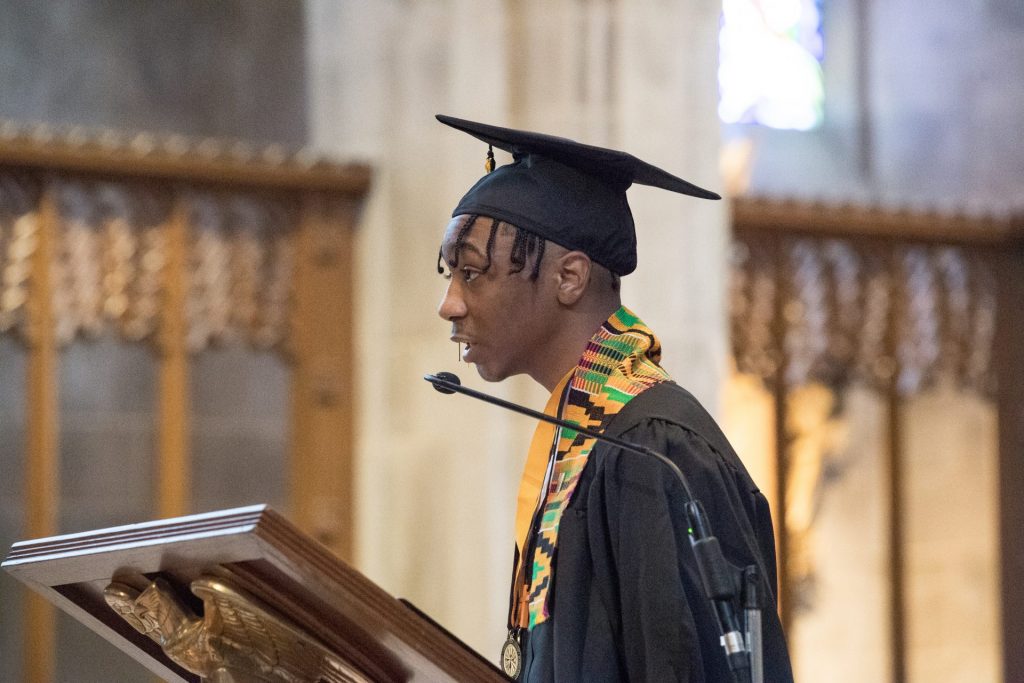 Below are the words shared by Ty'Ree Davis, the Cristo Rey Jesuit High School Class of 2021 Salutatorian, during the Commencement Ceremony at the Cathedral of Mary our Queen on Sunday, June 6, 2021.
---
Good afternoon. On behalf of the senior class, I'd like to thank all the people who make Cristo Rey Jesuit an amazing school and of which we are proud to be graduating from. To our Lord above who guides our feet through hallways, our pens through paper, and our spirits through controversy, we thank you. To the Board of directors for the ideas, prayers, and visions of success you bestow upon CRJ, we thank you. To the Administration team, for the behind the scenes tough calls you make to ensure a more prosperous education for us all, we thank you. To the maintenance team for the safe and clean environment you create endlessly so that we may learn more efficiently, we thank you. To the corporate sponsors, for your mentorship and the unique opportunities to learn about the genuine work environment, we thank you. To the faculty & staff for your determination and perseverance in the classroom and beyond the walls of CRJ. For your investments in our education and your willingness to sacrifice for each person's individual success. For the relationships you've built that for some of us, will last a lifetime. For your patience and understanding, we may not say it often, but thank you. And to our family both tethered by blood, and tethered by heart. Both parents and guardians and soulmates and best friends, we thank you for your support and investments made in all our walks of education. For your advice and wisdom that is always present when we need it the most. We love you.
I stand before you today as the Salutatorian of Cristo Rey Jesuit's senior class of 2021. I have been recognized as the top intern amongst my class. I take this title and recognition open heartedly because my entire freshman year I believed I was in the wrong place. Not only did I not physically fit in at Cristo Rey but I overlooked the amount of potential that was here. Early eighth grade year I planned to go to McDonogh, Mount Saint Joseph, or Calvert Hall for High School. However, things didn't work out that way and instead I landed here. I still felt that as a win but a win of lower quality. It was not until my first day as an intern for MECU that I realized the advantage I had gained from becoming a hornet. Whilst being a part of the facilities management team I learned the importance of employees' comfort and safety. I had the privilege to interview and share a meal with the CEO, COO, and CFO of MECU. In the course of two years I built relationships not only with my supervisor, but with all of the employees amongst all the floors of the building. Some of which shared hundreds of scholarship applications and websites with me. Some even were present at our Step Competitions. In the wake of my junior year, I decided to embark on a new journey at Stifel. Though I only spent 3 quarters of a year with Stifel and Equity Compass physically, I have left with knowledge that I will not only use as a future employee, but as an adult as well. I frequently shared lunch with employees while getting to know them all a lot better. They spend a lot of time together outside of the workplace and they have a really genuine friendship. This relationship between them all created an environment that was really welcoming and comforting to learn in. I quickly decided that this is where I wanted to study as an intern for the rest of my days at Cristo Rey. That goes to show that it takes nothing more than a nice lunch to reel me in. But on a serious note, I learned all the terms and lingo involving stocks, bonds, and investments. I learned the importance of proper organization and I was ensured that the work that I did, though it may have seemed small, was a pivotal piece into helping the company flourish. The mentorship, experience, and connections I've built at my internships at Cristo Rey were special and unmatched. I am forever grateful for the lessons, wisdom, and time you've all invested in me.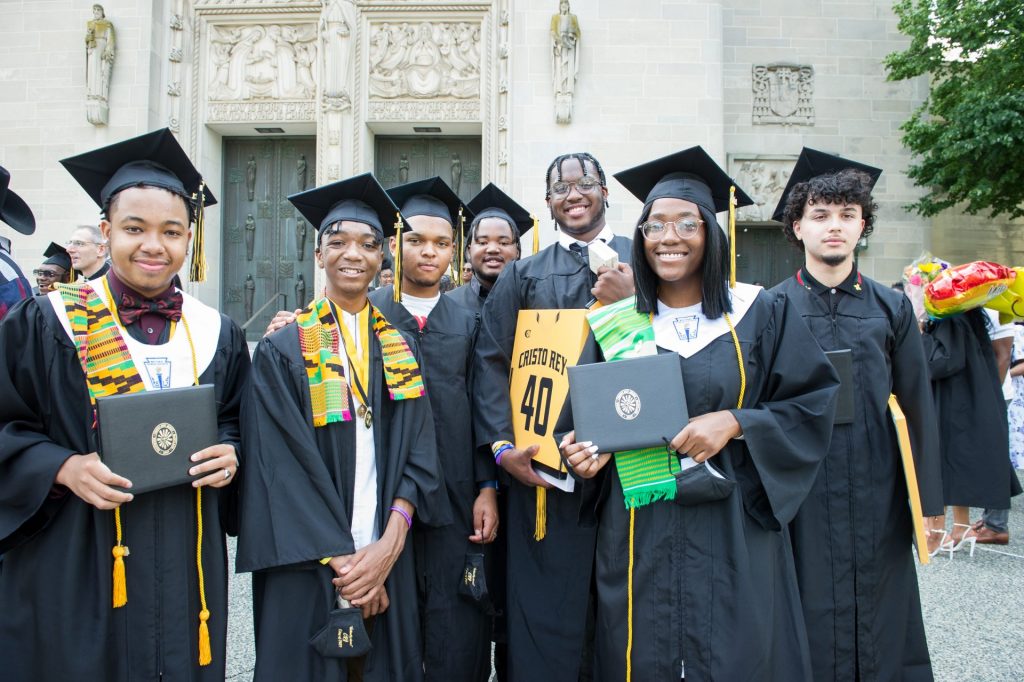 Now to address my class. This section of my speech took the longest to craft. After being away from all of you for so long, I wasn't prepared for this moment. However, after reflecting on our voyage through Cristo Rey it became clear to me what to say. Whew! We're finally done. Like we got through this. This was unreasonably hard. If you would've told freshman me what was in store, he'd walk right out them doors. For real. Some of you in the audience don't believe me but watch, I got three trigger words for my class and just see how they react. Number 1: Pumpkin Spice. Yup the freshman year incident. There's not enough time in the day to reminisce about that. So Number 2: Excel Courses. Ohh when I heard we had to do them again this year I almost gave up. Here's the last one, you knew you was in trouble when you heard this: Aye Sweetheart? Aye! Let me talk to you son? See look! Some of y'all instinctively packed all your stuff cause you knew you were spending the rest of the day with Mr. Lifsey. But for real, we've come a long way. From Father Toole sticking his head in a picture frame in almost every theology class, to Mr. de Saint-Félix's iconic Kahoot dance, to Dr. Mitala's Oprah impression – in which you get a jug, you get a jug, everyone got a jug! There was little to no one in the cafeteria that day. And we of course can't forget the pep rally in which Bryson Tiller was advertised to be performing; however, instead we received an off-key rendition of Don't by Mr. Hall. So yes, we are ready to go. But before we do, I do have a serious message to leave.
We've all worked tirelessly these past 4 years. And as I reflect on my time spent here, I acknowledge my efforts as an overachiever. From the work I've put in in the classroom and in extracurricular activities such as Peer Ministry, SGA, the Step Team, Morning Announcements, and choir – just to name a few. I've come to find out that I've filled almost every aspiration and expectation for High School. However, there is one box that is left unchecked. To you all who were not involved in my previously mentioned activities I've failed in making our relationship deeper than just one of a classmate's. And in light of losing a classmate, a friend, and a granddaughter who was dear to me, I recognize the lack of attendance within most of my relationships with you all. So yes, working hard is important, it is necessary, and it deserves to be sacrificed for, however, working hard should not come at the expense of your relationships. Whether that be with your family, a friend, or yourself. Now I don't regret these previous 4 years of high school, there's just times I wish I would've done more. I wish I could've made one more joke in class to hear Gabby's laugh once more extra that day. I wish I would've put off my extra credit assignment until after school instead of working through lunch, so that we could sit and debate whether or not we were hungry enough to attempt to eat lunch that day. I wish I had more days off from my multiple after school activities to make it to a few more of her soccer games. I wish I made myself available to make a few more memories. And so I offer some advice not only to us graduating seniors, but additionally to everyone else in the audience. Make yourself available to make a few more memories. Enjoy the things you can enjoy. Enjoy the people you have while you have them. Enjoy the time you have whilst you have it. Because if there's one thing that is certain to be gone once it's left your hands, it's time. And right now it's time to celebrate us. So congratulations to us and I am so proud that we have made it this far. Let's make some more memories. Thank You! 
---