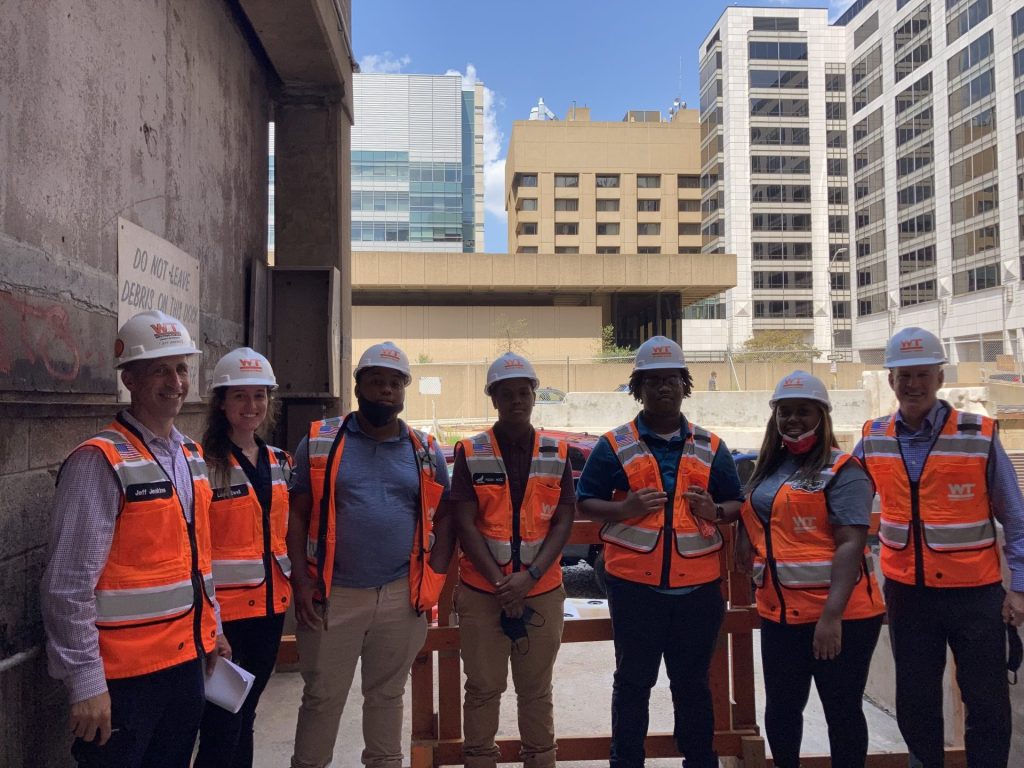 Baltimore, MD, October 27, 2021– Continuing with their mission of preparing students to be career-ready, Cristo Rey Jesuit High School in Baltimore, MD has created an innovative new layer to their work-study program titled the Career Launch Program.  This program builds on Cristo Rey's existing Corporate Internship Program that provides Cristo Rey students with the opportunity  to gain real-world knowledge in three separate concentrations: Engineering, Design and Construction Management, Healthcare, and Information Technology. Mercy Medical Center was Cristo Rey Jesuit's first Career Launch program partner a year ago, focusing on Certified Nursing Assistant certification.  Whiting-Turner joins the Career Launch program as the second partner that will provide additional training to Cristo Rey Jesuit graduates as they prepare for college and career.
The Whiting-Turner Contracting Company, a long-term partner with Cristo Rey Jesuit, is continuing its support of the School's students by committing $500,000 over the course of four years to fund elements of the Career Launch Program including the Construction, Design, & Management track of the Career Launch program. Students will become members of project teams and shadow project engineers and project managers as they navigate the construction industry.
The Whiting-Turner Contracting Company CEO, Tim Regan stated, "We are excited to continue our partnership with Cristo Rey Jesuit and provide students the opportunity to gain vital hands-on experience in this very high-demand field. Cristo Rey students have demonstrated exceptional enthusiasm and dedication to the program."
Over the summer, six Cristo Rey Jesuit rising juniors participated in an eight-week immersion program with Whiting-Turner where they worked on project teams and in business services across the Baltimore metropolitan area. Students learned all about the construction management industry including cost control, scheduling, logistics, safety, and quality. Junior Tyran Miller noted, "The best part about my team was how tight knit they were, felt like another family, and also how they were willing to teach me so much while I was there." Students will be resuming their immersion program in the fall and gaining additional exposure with their project teams as they work on new projects.
Cristo Rey Jesuit President, Dr. Bill Heiser, shared , "We are very grateful to Whiting-Turner for their continued commitment to our school's mission and our students. Students in this program are getting once-in-a-lifetime exposure to this growing career field and are developing a passion for their futures beyond their time at Cristo Rey."
To learn more about the Career Launch Program, contact Mr. John Busse, Director of the Corporate Internship Program, at 410-727-3255 x 1010.