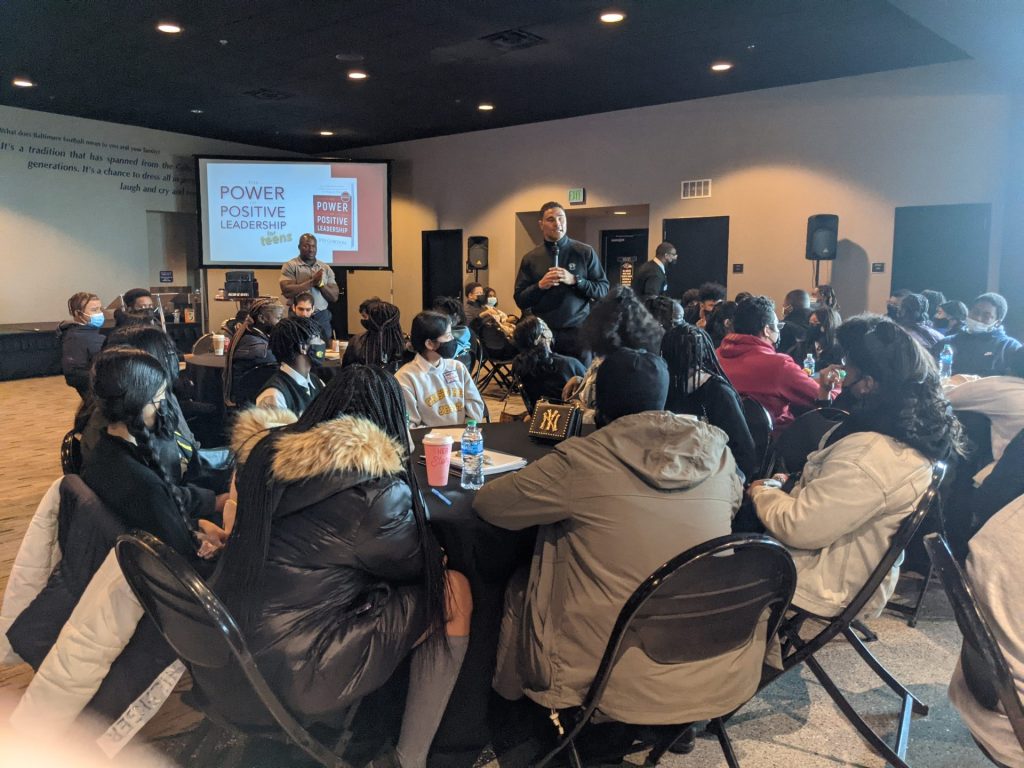 Baltimore, MD, December 1, 2021– Supporting their mission to prepare graduates for college and careers, Cristo Rey Jesuit High School in Baltimore City, MD is partnering with Best-Selling Leadership Author, Jon Gordon, to host a Positive Leadership Summit for Teens at the Baltimore Ravens M&T Bank stadium. Jon Gordon is being joined by former NFL players and motivational speakers, Thomas Williams and Rennie Curran to deliver an all-day leadership workshop for Cristo Rey Jesuit freshmen.
This leadership summit is being offered as part of the Corporate Internship Program, Cristo Rey Jesuit's work study program that affords all students the opportunity to work at a Baltimore-area business one day per week. New this year is the Leadership Foundations Program, a freshman program that prepares students for the workforce by teaching and fostering fundamentals such as leadership, professionalism, and communication. "We are very excited to be able to introduce this innovative and unique program to our students. This program, combined with the Teen Leadership Summit, will be instrumental in preparing our students for not only their future internships, but life after Cristo Rey, as well," stated Cristo Rey President, Dr. Bill Heiser.
The Teen Leadership Summit will feature a full day of workshops, small group activities, and keynote speakers, presented by the Jon Gordon Companies. Students will examine a variety of leadership topics including the principles of leadership, the importance of vision and purpose, and overcoming negativity. Students will have the opportunity to work with and learn from fellow classmates as they create their own individual Leadership Action Plans to implement into their everyday lives. "This is an opportunity for our students to learn valuable skills to propel them forward both in their studies and future careers," noted Mr. John Busse, Director of the Corporate Internship Program.
Jon Gordon is a Best-Selling Leadership Author, having written over 20 books including The Carpenter, a Top 5 Business Book of the Year, and The Power of Positive Leadership. He has been featured on multiple TV and news channels including The Today Show, CNN, and CNBC along with a multitude of magazines and newspapers. Jon is a Cornell University graduate and earned his Master's in Teaching from Emory University. "I am thrilled at the opportunity to speak to the freshmen at Cristo Rey Jesuit and participate in this state of the art course. It is my goal to increase the students' awareness of the importance of leadership and help them discover their own unique leadership styles," he stated.
Joining Jon Gordon will be motivational speakers and former NFL players, Mr. Rennie Curran and Mr. Thomas R. Williams. Mr. Curran is a member of the Jon Gordon Speaking Team, the CEO of Game Changer Coaching and 3rd round NFL draft pick (Tennessee Titans) in 2010. He utilizes innovative presentations and coaches individuals on overcoming adversity and embracing their individuality. When not coaching, Mr, Curran can be found volunteering in his community, or spending time making and listening to music. Mr. Thomas R. Williams is a member of the Jon Gordon Speaking Team and Director of the non-profit, "Pursuits of Greatness" where he helps college student athletes prepare for life after their athletic careers end. He focuses on helping the audience to see and create their vision and implementing their vision into their daily lives. Mr. Williams played 5 years in the NFL and is a graduate of the University of Southern California where he captained the football team.
To learn more about the Teen Leadership Summit, please contact Mr. John Busse, Director of the Corporate Internship Program, at 410-727-3255 x 1010.