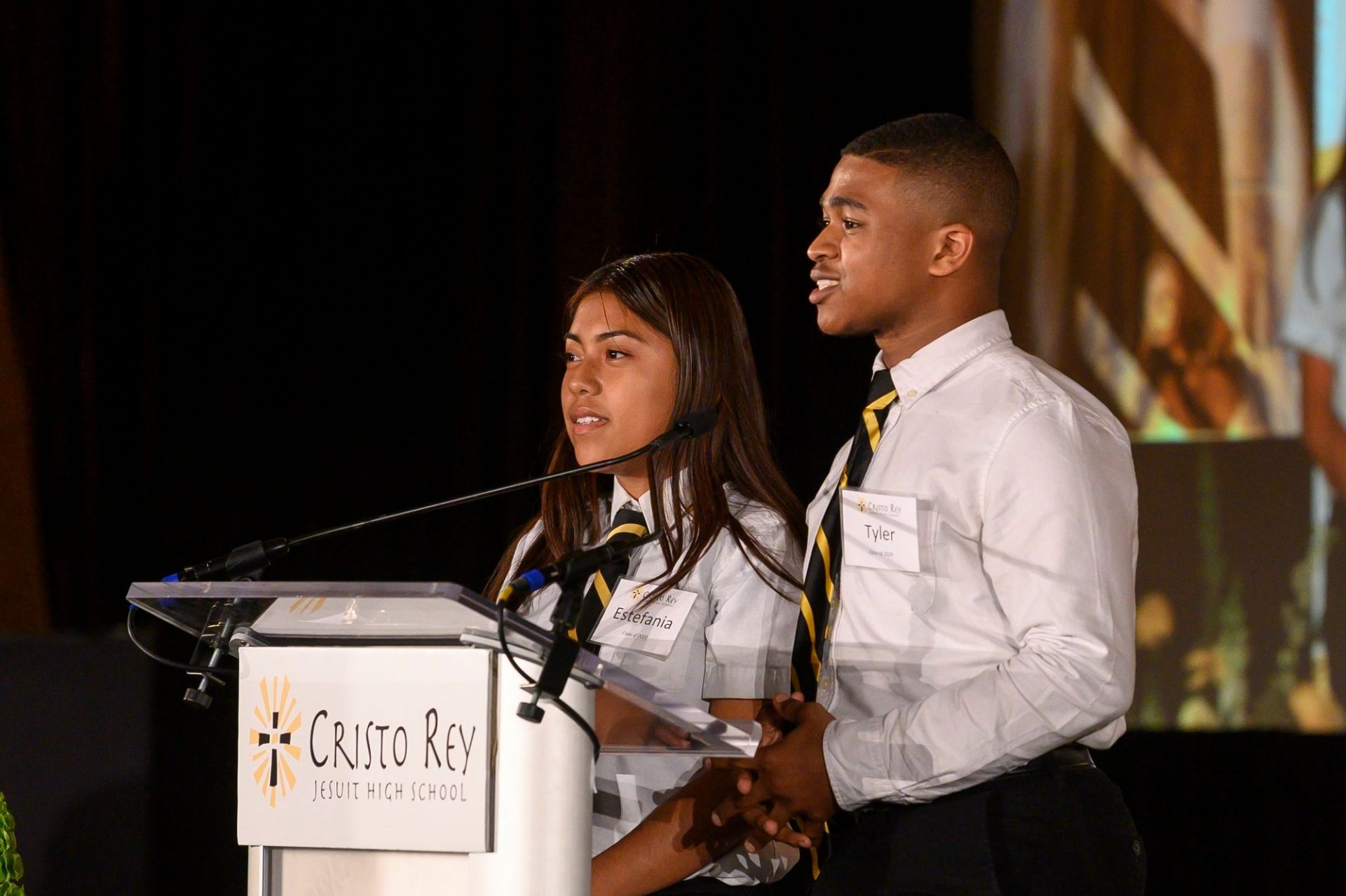 Frequently Asked Questions
Frequently Asked Questions
For information on admissions, please review the topics below as well as our Application Instructions. If you still have questions, please reach out to us by contacting the Admissions team at admissions@cristoreybalt.org, or 410-727-3255 ext. 3000.
Application

Do I need to be Catholic to apply?
No. Students of all faiths or denominations are welcome. The school is open to all; however, it should be understood that this is a Catholic institution, and religion classes, monthly liturgical celebrations, and spiritual retreats are part of the school.

What grades can I apply for?
Cristo Rey Jesuit accepts applications for incoming 9th grade students and a few transfer 10th grade students. Unfortunately, we can not accept transfer 11th or 12th grade students.
Tuition & Finances

What is the tuition?
While the tuition (cost per student) is roughly $17,500, the average family pays around $1,000. Each of our students helps pay a portion of their tuition through our innovative Corporate Internship Program. The most that any family pays per student is $2,500. Financial aid is also available for families that demonstrate need.

Does Cristo Rey offer financial aid or scholarships?
Cristo Rey Jesuit offers need-based financial aid. All incoming freshmen will fill out the FACTS financial aid form as part of the application process. All students are not only considered for financial aid, but also for the Healy Presidential Scholarship.

What is BOOST?
BOOST is a Maryland State Department of Education scholarship program not related to Cristo Rey Jesuit High School. For more information email them directly at boost.msde@maryland.gov

What is FACTS?
FACTS is a financial aid processing service separate from Cristo Rey Jesuit High School. If you have questions, they can be reached at (866)441-4637 for help.
Admissions Requirements

What are the requirements for admission?

Financial: The school is designed for students who desire a quality Catholic education but need substantial financial aid. The FACTS financial aid application will be used to verify need on a case-by-case basis as the first criteria for admission.
Age: Students must be 14 years old or older by September 1st of the year they enroll.
Scholarship: Students must have at least average to above average grades, good attendance, and be willing to work hard to meet high academic expectations and the work obligations of the school.
Employability: Students must possess the maturity and work ethic necessary to be successful working with adults in an office environment. All students must be authorized to work in the United States by the first day of the work program.
Desire and Dedication: The most important qualities a student can bring to Cristo Rey Jesuit are the desire, dedication and motivation to work hard on the job and in school.
Corporate Internship Program

Where do students work?
Cristo Rey Jesuit students work at a variety of law firms, banks, hospitals and non-profits. Please refer to our 'Corporate Internship Programs' page for more details.

What do students do at the companies?
Students can perform data entry, document management, internet research, IT support, event support, mass mailings, reception, patient transport, and most entry-level office work. The wide range of Corporate Internship Program partners allows students to be exposed to a wide variety of tasks and responsibilities involved in corporate work. Job descriptions vary by organization.
Student Life & Transportation

Is there a uniform?
Yes. The uniform is worn both in school and on work days.

Do you provide transportation?
Cristo Rey Jesuit only provides transportation from Northwest Baltimore in the mornings. There is a bus that leaves from the Mondawmin area that brings students to school in the morning. All students are provided transportation to their places of employment.